EFFECTIVE JANUARY 1, 2018 HAZARDOUS WASTE COLLECTION will be available to all residents of Crescent Township. The proper collection of hazardous waste will help eliminate toxins going into our waterways. Please take advantage of this wonderful and FREE service to everyone. Below is a link containing a letter from Waste Management regarding the procedure regarding door pick up service.
HAZARDOUS WASTE COLLECTION BY WASTE MANAGEMENT DOCUMENT
Stormwater Management is an important part of today's enviroment. We all have an oppurtunity to contribute to cleaner waterways. How can you help? Below is a guide containing some suggestions on how to contribute using your property.
HOMEOWNER'S GUIDE TO STORMWATER
DEPARTMENT OF ENVIROMENTAL PROTECTION - STORMWATER INFORMATION
ENVIROMENTAL PROTECTION AGENCY (EPA) MS4 INFORMATION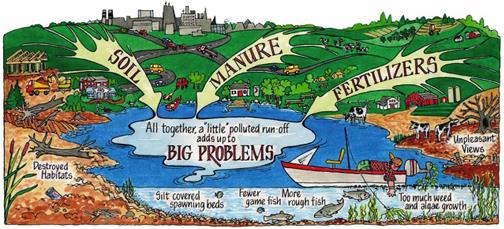 Polluted stormwater runoff is commonly transported through Municipal Seperate Storm Systems (MS4s), from which is often discharged untreated into local waterbodies. To prevent harmful pollutants from being washed or dumped into a MS4, operators must obtain a NPDES permit and develop a stormwater management program.
Minimum Control Measures and Best Management Practices
The MS4 Program contains elements called Minimum Control Measures (MCM) that when implemented should result in a significant reduction in pollutants discharged into receiving waters. Each MCM requires implementation of Best Management Pratices (BMPs) to meet measurable goals according to an approved schedule. Annual or periodic reports are also required. In development and acativities that may affect stormwater runoff.
ORDINANCE 556 - STORMWATER MANAGEMENT
update 1/3/2018